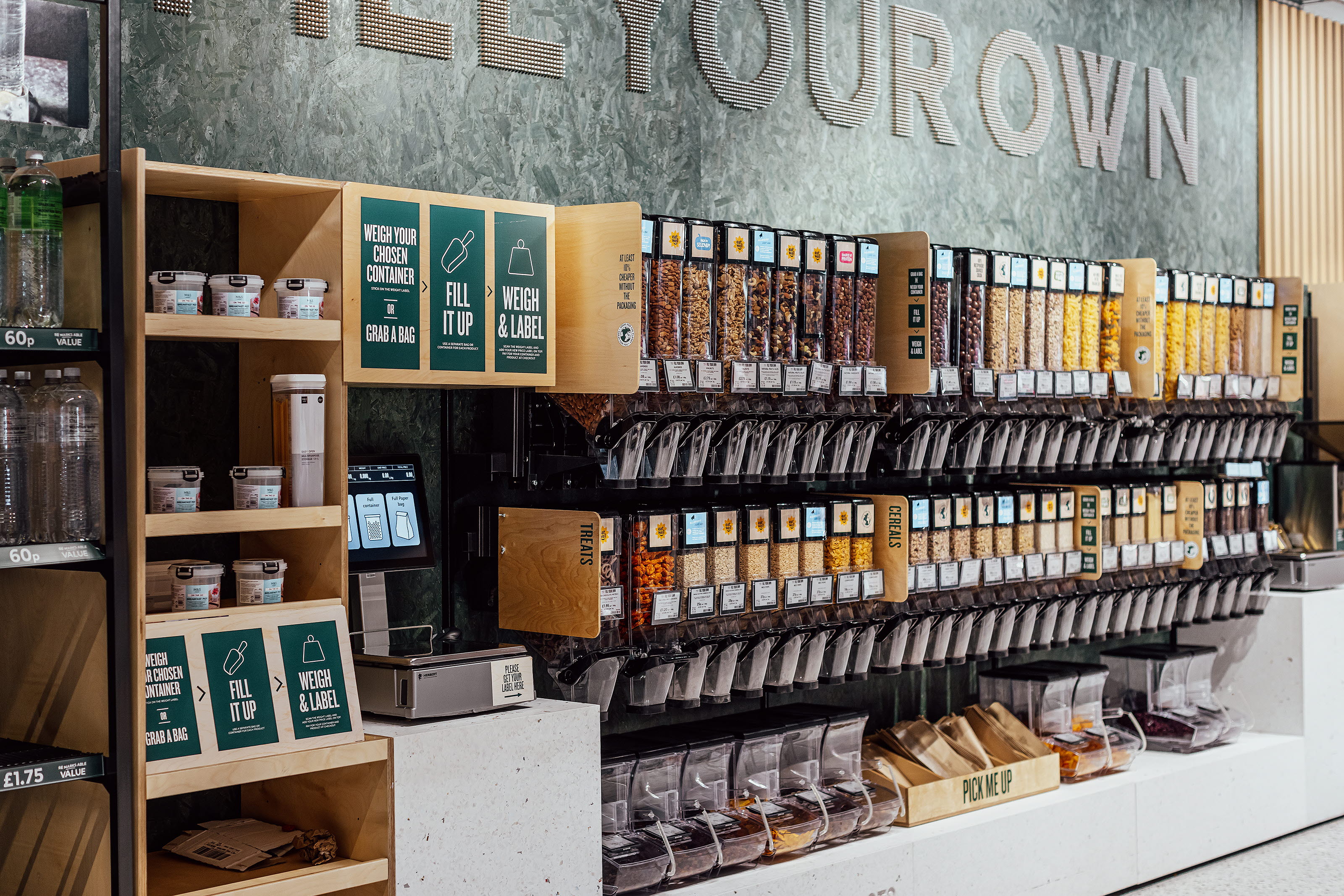 Marks & Spencer opens more stores with refill concept
Marks & Spencer recognises the increasing importance and popularity of packaging-free merchandising and launches more sustainable stores.
The 'Fill Your Own' concept that was previously more common among zero waste stores, is now gaining traction among big retail chains in the United Kingdom (UK), as they discover the benefits of using bulk bins, while meeting consumer preference.
Research* by M&S Food today shows that over 75% of consumers are consciously making efforts to reduce their use of plastic packaging. Refillable groceries are becoming more popular to support this ambition, with two thirds of shoppers more likely to adopt this concept now compared to the same time a year earlier (2019), and about 23% consumers actively search retailers that offer refillable groceries.
That is why, in December 2020, Marks & Spencer (M&S) opened a new sustainable store in Staines, UK, its third store to feature the popular 'Fill Your Own' concept after its successful introduction at M&S Hedge End and Manchester. The retailer is focused on supporting customers reduce, reuse, and recycle packaging, with over 50 lines of refillable grocery essentials that include lines such as coffee beans, cereals, pasta, and frozen fruit. It allows shoppers better charge over their purchase - choose the exact product mix and quantity they would like and avoid unnecessary package waste. Customers have the option to purchase reusable containers, or alternatively free, recyclable paper bags are made available to them.
Caring about plastic waste issue
"As we continue testing and learning from Fill Your Own, it's clear that demand for refillable remains strong. We know families particularly enjoy shopping the concept as a fun activity, so our new store in the popular Staines shopping centre is the ideal next location for Fill Your Own. But most importantly, our customers care about the issue of plastic and this initiative is just one part of our plan to help them reduce, reuse and recycle – because we know our actions today will help to protect the planet tomorrow," said Paul Willgoss, M&S Food's Director of Food Technology.
HL has installed our 4eBins™ and Scoop Bins for their range of dried food, confectionery, and coffee, as part of a bespoke solution – where the entire display was specially designed and constructed. The 4eBins™ are made from recycled plastic, and part of our Sustainable Choice range.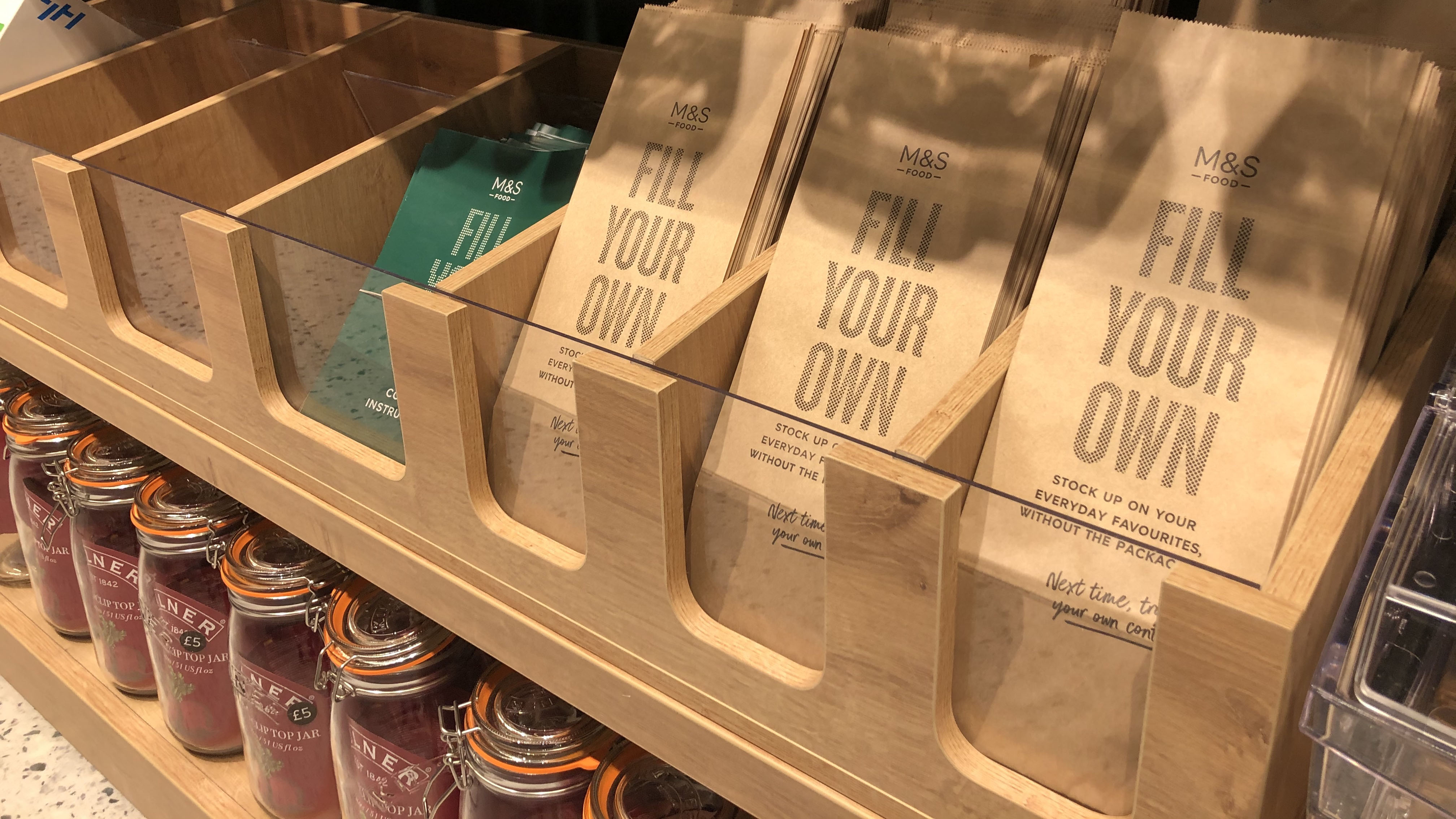 Outselling packaged alternatives
'Fill You Own' has proven popular amongst customers at M&S, despite the shift in consumer behaviour during the pandemic, and over 40% of the lines are currently outselling the packaged alternatives.
If retailers and consumers joint forces to make a conscious effort towards offering and buying packaging-free products, it will be a win-win-win scenario – for the retailer, consumer, and environment.
Sources:
M&S Press Release – March 2, 2020
M & S food sees rise in customer appetite for refill

M&S Press Release – December 4, 2020
M & S food expands plastic-free grocery refill concept to third store


*Figures from YouGov Plc. Total sample size of 2,218 adults. Survey was undertaken online between 12th - 13th February 2020. The figures have been weighted and are representative of all GB adults (aged 18+).