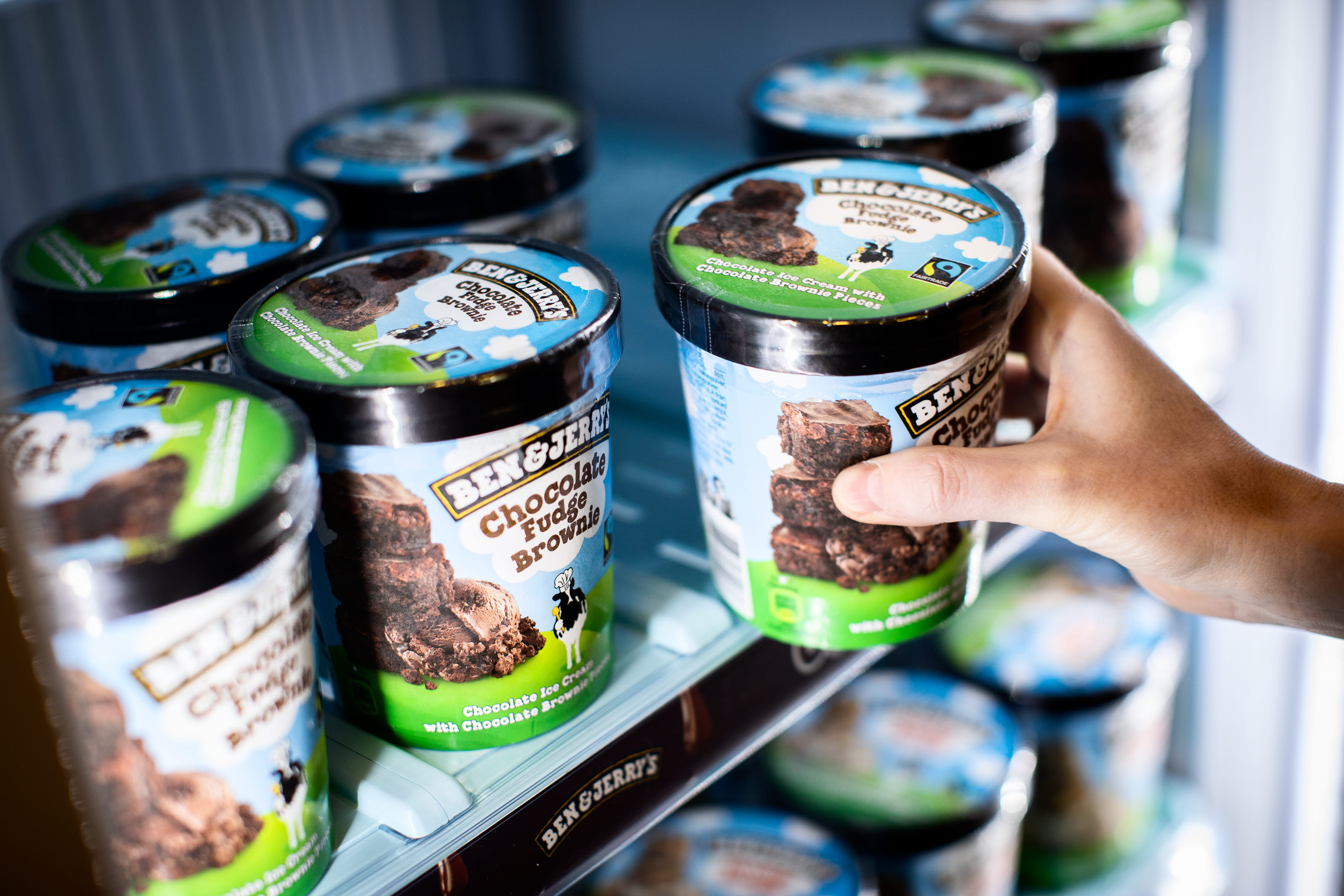 A simple and sustainable shelf solution
Environmentally responsible merchandising that improves visibility and drives sales
To help reduce their environmental impact whilst boosting sales, Ben & Jerry's commissioned HL to design a sustainable shelving solution for their much-loved ice creams. Made of bioplastic material that comes from renewable sources, the new trays help shoppers find and pick out their favourite ice cream flavour.
Grocers face many problems when it comes to merchandising their products, such as messy product displays and securing shelf space. Ben & Jerry's approached HL due to challenges with disorganised ice cream displays in supermarket freezers. HL's Nordic Design Centre (NDC) proposed multiple solutions and prototypes for Ben & Jerry's to choose a final design from.
"We wanted a display solution that could help the shopper navigate our product as well as work well for the merchandising staff," explains Ben & Jerry's Category & Channel Development Manager, Charlotta Milleding. "Overall, we needed to ensure the trays were suitable for the freezer and that installation would be easy. HL came up with a solution that fit the bill."
Reducing the impact of plastic waste
Ben & Jerry's requested a sustainable material for the ice cream trays that would reduce their environmental impact. Sustainable Choice bioplastic, made from materials that originate from corn and sugarcane, are a modern alternative to conventional fossil-based plastics.
"We need to stop our dependency on fossil-based resources," says Charlotta. "By making the new bioplastic trays from renewable resources, we are taking steps in that direction."
Bio-based plastics play a vital role in a sustainable circular economy in that they regenerate CO2 and use renewable raw materials. A circular economy ensures materials are reused and recycled rather than disposed of.

Solving common problems with smart designs
Sweden Sales Manager Mattias Samuelsson explains, "At HL, we are all about asking, "What are your pain points and why?" and coming up with solutions that solve challenges. From our broad base of knowledge around retail trends and category insights, we specialise in inventing new concepts or updating existent merchandising formats."
During concept development, the design team considered all factors such as the need to withstand freezer temperatures. Product stacking and re-merchandising was also required to be as efficient as possible to minimise manual labour and keep the display looking neat. The final solution needed to be presented with the same aesthetics that reflects the look and feel of this popular brand.
Production is complete with 1000 trays being installed across Sweden.
"We feel very confident that this solution will be more visible as well as save time and energy when re-merchandising. Our retailers are equally as excited about the new way of merchandising our ice-cream where anticipate an uplift in sales revenue," concludes Charlotta.